It seems like an age since my last update post but things have been happening behind the scenes and testing of the new client (that has been released today) have been in the process for several months now! – I would like to take this opportunity to thank all of our "Test Pilots" on our Discord server as well as Cody (clorix) and Uwe (thunfischbaum) for the many test flights they have personally performed too!
LRM Client v4.3.1 has been released!
I'm super excited and pleased to announce that LRM Client v4.3.1 has today, been released and can be downloaded from the LRM Client website.
The new release comes with a ton of new features and improvements over the older LRM Client 4.0.0 release.
You can read about the new features on the LRM Client website or you can see below for a quick summary:
Improved support for Microsoft Flight Simulator 2020.
G-Forces now captured at landing and it contributes towards the landing rate "score" (G-Force recording not currently compatible with XP11 though).
New "Route Planner" feature added – You can enter route plans manually, import from a virtual airline saved route plan or from a SimBrief or LittleNavMap plan file.
Virtual airlines can now style the LRM client interface remotely (for virtual airline flights) – This can be done throught the Virtual Airline Management screen using the "Logos" tab.
Extra sound effects/cabin announcements (bad landings, pushback, arrival).
Ability to disable all sounds effects/cabin announcements for light aircraft (< 3 tonnes OEW).
Ability to "ignore" touch and go landings from automatically reporting as a flight in FsHub (can be enabled from the Preferences Window).
New in-client issue/bug reporting feature (with debug logs).
Updater system to automatically migrate your LRM client settings on LRM client version updates.
New in-client links to our new support forums and Discord server.
Performance and stability improvements.
Update:- Please be aware that a handful of the 200+ users that have already downloaded and installed this version have reported issues following upgrading (they are unable to launch the LRM) – whilst this is only happening for a handful of users, if this happens to you too you should uninstall the new version whilst we work out what is causing this and re-install the previous version (v4.0.0) you can download the older version here.
You can download the latest version of LRM Client from the LRM Client website at: https://lrmclient.org
The new "Countries Visited" page/feature
Over the last couple of years, I've had requests from some users to add a page that includes all the flags/countries of the world and to highlight which counties a user has already visited (landed at) as well as the outstanding countries that he or she has left to explore.
Whilst I felt this was a great feature it had been put to the bottom of the list for a while and other more important updates have taken priority but I'm pleased to announce that as of yesterday this feature is now available for all users and can be accessed from their dashboard screen by clicking on this button: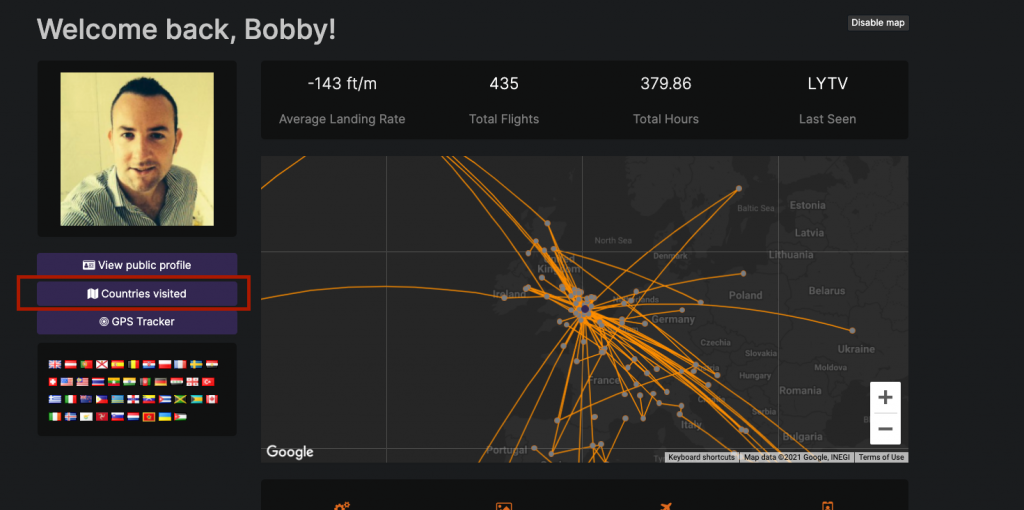 or from any user's public profile page (by clicking on the "Countries visited" link above the flags like so: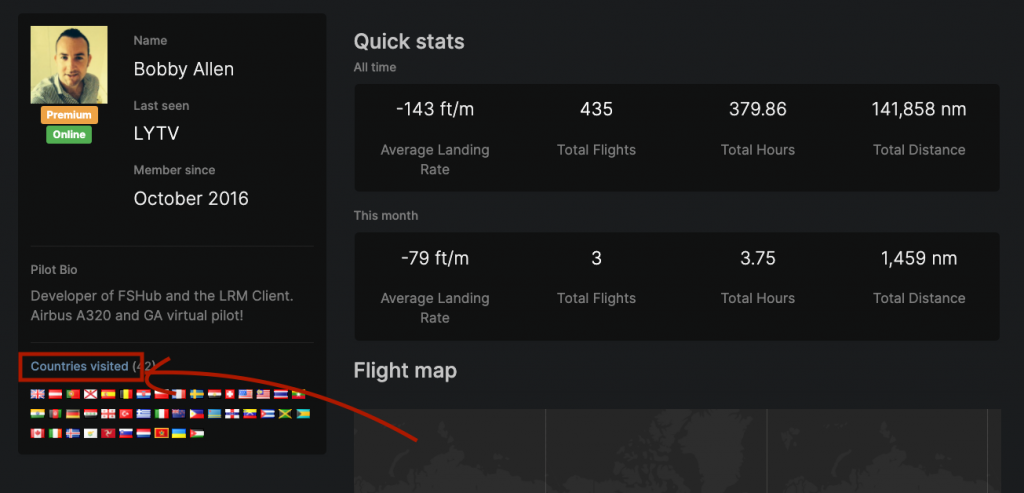 Once you open the page, you will notice that countries that you (or the pilot's profile that you are viewing) have visited will show the countries' flag in full colour and the country name in bold – countries that you have yet to visit will be greyed out.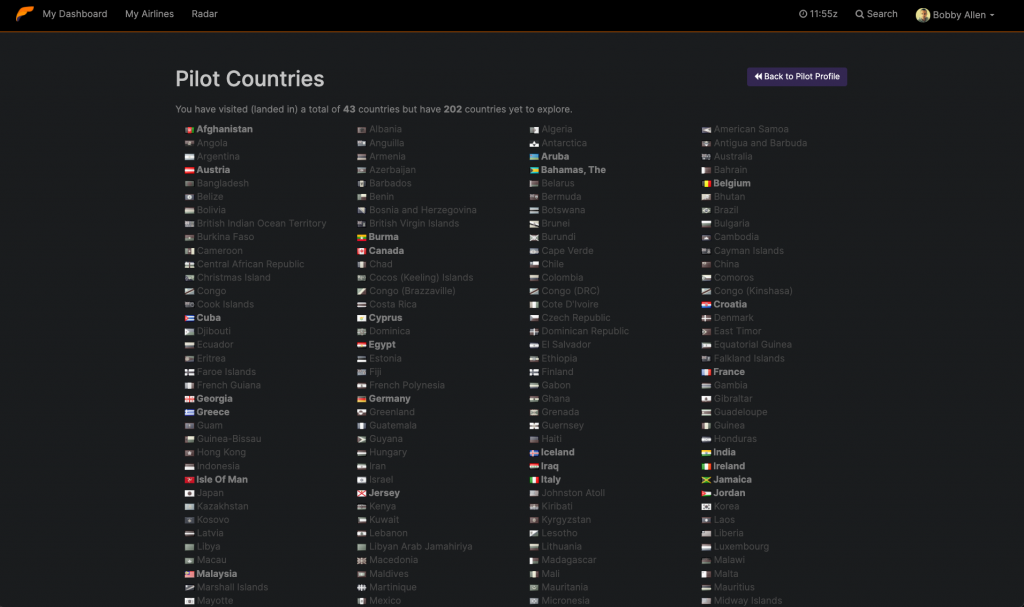 Ok, the feature isn't a new "next level" or "groundbreaking advancement" but I think that many will enjoy this feature and will give them some ideas as to where they may wish to fly to next in order to add some more flags to their profile.
Loving the updates?
If you appreciate the updates and new features and are able to comfortably help the project by donating, please consider doing so, you can find out how to donate here.
Lets us know what you think!