I didn't actually expect to be providing such a big update so quickly but after my last update (a few weeks ago), a request came in from one of the VAs that use FsHub and whilst they only wanted part of what is now possible, after looking into the original request I couldn't help but get excited and work on it tirelessly for the last week. I'm pleased that it is now ready and I'm excited to tell you more about it…
LRM 5.4.8 has been released – FsHub Live Traffic!
LRM 5.4.8 has just been officially released today (you can download it from here) which, amongst some other improvements (which can be found in the changelog) now provides the ability to fly with your friends, VA colleagues and other FsHub users that choose to enable this new integration that I have added into LRM this week.
Whilst I'm fully aware that this particular feature may not be to everyone's taste but as with nearly all of the other features provided by LRM, you can enable or disable them as you desire (if you don't like it, don't enable it).
Setting the scene a little… maybe you already use other tools like VATSIM, IVAO, are simply happy with the built-in AI traffic in your simulator or straight-up prefer flying with zero traffic whatsoever… On the other hand, maybe you'd like to fly with other users that fly on FsHub without worrying about radio comms etc?
I personally think this could be a great feature for many of the VA's, especially GA virtual airlines that wish to fly in formation but equally, for all pilots' wanting to fly with or have realistic aircraft moving about the skies during their flights, the integration work that I have done this week also means you can cross-reference the aircraft you see in the simulator with the ones on our Global radar page (you may have already noticed some aircraft looking slightly different on there this week during our testing 😄).
….and ok, maybe you're already using Microsoft Flight Simulator 2020 and already taken advantage of the built-in multiplayer traffic features, users on other simulators would not be able to join the same multi-player session as you and so, this is where JoinFS comes in…
Among other things, JoinFS (which is freeware) enables you to fly with other simulator pilots across all the major simulators (totally cross-platform) and due to the distributed way in which "hubs" are hosted, this means that latency really isn't an issue or at least not that I've seen yet- several of our test pilots have been testing it out all of this week and have found it to be flawless in terms of speed and smoothness.
JoinFS comes with a whole host of other features too which means you can share a cockpit with another pilot online, fly in lag-free close formations and can do a whole load of other things too but especially, being able to fly with others on different simulators is fantastic in my opinion.
Whilst there is still a little bit of setup and configuration to do inside the JoinFS client, once completed, LRM can automatically handle the launching of JoinFS and automatically connect you to our dedicated "hub" network in addition to auto-closing JoinFS once you've finished flying too which I feel provides you with a hassle-free, totally automatic way (you can do manual too) of starting the JoinFS client and automatically connecting you to our dedicated hub and therefore instantly gain FsHub pilot traffic – giving you a similar experience to that of VATSIM and/or IVAO but without the having to worry about ATC or potential concern about radio comms but, from our tests, much smoother and lag-free.
I think it would be really great to arrange (specifically for those flying GA) a big fly-in event such as a virtual "Sun and Fun" whereby, we could over say a period of 24 hours host a huge fly-in event and "virtually", fly into and land at, meet up and depart from the chosen destination airport – that could be super cool I think 🙂 – A great opportunity to get screenshots 😀
I could go on for ages about this feature but I encourage you to go and read the documentation that I have prepared here which goes into more details as to how LRM integrates with JoinFS and the few simple configuration steps you need to do in order to have LRM client connect you to our own dedicated hub network (it's kind of like a server but it's distributed – which makes it all the more awesome!)
I suggest that as many of you may want to try this out and plan to install JoinFS that, whilst you may have support questions related specifically to JoinFS and whilst, like myself, Peter (the developer of JoinFS) works on the software in his spare time and, some of the initial questions you may have may also be the same questions asked by other FsHub users and therefore suggest that you instead ask them in our Discord server in the first instance to alleviate pressure on him but also will enable us to document on our wiki common FAQ's, tips and tricks etc. That being said, the JoinFS manual is rather good and I would highly recommend you read it in the first instance (specifically the model matching parts may be) as the rest of the functionality is pretty much automated by the LRM integration.
Airport data upgrades have been completed!
In my last update, I mentioned that I would be doing a major airport database update to include the latest airports that are included in the latest MSFS2020 update (WU8) – essentially just making sure our airport database is reflective of the real-world airports by renaming older ICAO's and adding in new airports that were previously missing.
I'm pleased to report that after hours of testing on my test platform that the data "merge" into our production environment was a great success!
As part of this work involved me developing a new automated software tool that could compare new/modified data in future database upgrades and will intelligently merge changes with our airport database – now that this is completed future MSFS world update airport merges should be much quicker enabling me to rollout airport updates into our database really efficiently.
Other notable updates and news from FsHub these last couple of weeks
The daily challenges appear to be really enjoyed by many pilots on FsHub which is fantastic – it's great to see such large "daily streaks" too – you guys are truly dedicated!
The Pilot Achievements that we added in celebration of the MSFS World Update 8 release last week that mainly JimG and Clorix added (my only contribution this time being the Antonio Gaudi one 🤣) have also seen a big uptake with many pilots have already completed both the single leg and multi-leg achievements… great job guys!
As previously promised, we will continue to add a new handful of Pilot Achievements every couple of months and in the meantime, the dynamic daily achievements should keep you occupied and have you travelling to parts of the world you might not have otherwise even considered in the past.
Some FsHub users on the other hand prefer to make their own way in the world and aren't too fussed about the daily challenges or flight achievements and so, in order to declutter the FsHub interface a little, I added the option to "Enable distraction-free mode" which can be accessed through your Settings > Options page and, when enabled will remove all references to, and menu items for the daily challenge and pilot achievement sections – Nothing major but does clean up the menus a little bit and I'm sure some will like that.
I added some automatic warning messages to flight achievement pages that could affect users with the "Ignore short flights" feature enabled in the LRM client – this was, yet another great user suggestion.
Flight reports now include a new section called "Flags", I guess this is kind of the same as the pilot editable "tags" but these "flags" are set automatically by FsHub when the flight report is created, these are designed to help you see very quickly if the flight has any special characteristics…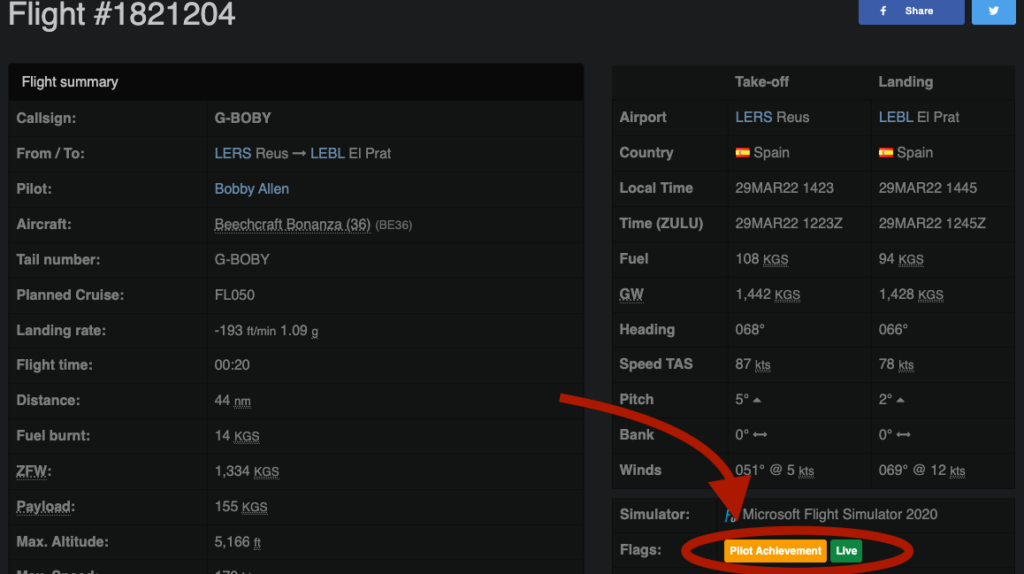 There are actually three types of flags and are as follows:
Pilot Achievement – Displayed when the flight report was created from flying one of the Pilot achievements.
Daily Challenge – Displayed when the flight report was created from flying the daily challenge (not shown in this screenshot but I'm sure you get the idea).
Live – Displayed when the flight was flown on our JoinFS hub network (online flying).
With the introduction of the flags on the flight report page, I thought I'd also update the logbook filter panel and include the ability to filter your logbook by achievement type too, this, therefore, sees the introduction of these two new filter options too…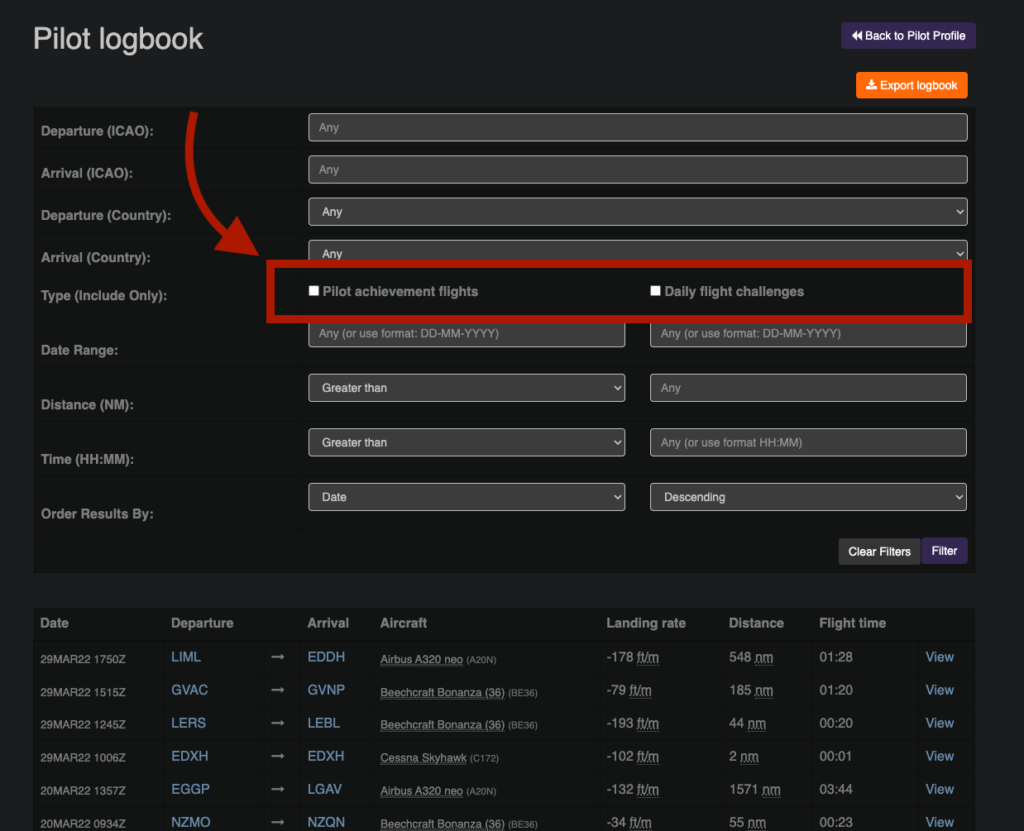 We are now able to import user flight logs from other systems or manual flight logs created in the past too… This feature however is limited to users of whom have "Supporter" status as there is a degree of manual validation that has to happen – eg. ICAO's change and we have to make manual decisions and also due to the fact that we do not want the system to be abused, as any and all requests to have historical flight logs imported do count towards the pilot's global stats – If you are a "Supporter" and have log files you want to import please contact me and I can provide you with details of the file format required (alternatively, we could potentially work together to build a "migration tool" to ease the process from the origin format into the FsHub format).
The official SDK clients have been officially released and accessible from our Platform integrations section as per normal, however, I got distracted this week and worked on the Live Traffic (JoinFS integration) features and so I do still have further documentation and examples to publish but fingers crossed, that will be next week now.
To be honest, there are so many other tweaks, updates and improvements to the FsHub site these last couple of weeks that I've simply forgotten most of them having accidentally thrown my notes out earlier this week – but that adds to the excitement, right?
What's next? – Virtual airlines are getting some love…
The main site search is going to be overhauled with optional new filters and result pagination improvements I've not been overly happy with the way the search feature functions – it searches amazingly due to the backend technology that I've used but at the moment it's just a single global search, I will improve this massively very soon…
With so many pilots and flight-specific related updates made recently, I must admit that the virtual airline features have been neglected (I only have so many hours in a day though, right 🤪) but virtual airlines will receive major updates in the next couple of months and will be my primary focus.
FsHub has always tried to be unopinionated as to how you set up and use the virtual airline features within FsHub and that is why, many of the features I announce today haven't yet made it into FsHub (because I was purposely pushing back wanting people to use the API features) but, it would seem that the demand is so high that I have decided to introduce them.
All of the features detailed below will be fully optionally – if these features are not enabled by VA CEO, the VA options and features will remain as they currently are which, will probably suit most GA flying clubs – which is great 🙂 – No one will be forced to use these new features but for the larger VA's may come in super handy. Anyway, without further ado, let's go over them…
The planned updates (most of these requested through the user surveys, and Discord conversations) are as follows:-
A new "management centre" for virtual airline owners and staff to manage their VA as there will be many new features (continue reading 😉) that simply won't fit into the existing "Airline settings" pages of FsHub website.


More customisation features for virtual airline public profiles – the ability to upload banner images, and change the page style entirely to enable VA's to have very unique profile/"homepages" if they wanted.


Role-based authorization controls (RBAC) – enabling VA CEOs to set up "staff members" (roles) which will mean that virtual airline owners can give extra permissions to certain members within their VA to grant them granular level access to specific management features – something that has been requested numerous times.


Custom VA achievements – Like our Pilot Achievements section but will enable VA members with the correct permissions to create custom achievements to be flown by VA members only – Like a private version of what we have already, with this feature it would be great to see more "flying clubs" established where community members could join simply to fly a ton of amazing VA curated achievements.


Private message boards for VA's – fully optional and only available if the VA CEO enables it but will provide a private place for VA members to communicate, post NOTAMs, arrange events, post news and even cat pictures if they wanted 😂 . Essentially a private forum for your virtual airline members to keep in touch. As you might expect, the new permissions system would allow you (the CEO) to grant moderator permissions to staff members to help you delete said cat pictures 😂.


Optionally require the manual approval of PIREPs before being accepted and displayed on the airline flight logs.


Carry-over flight hours – VA staff will be able to manually "add" pilot hours for pilots' transferring into their virtual airline (such as from an external system) – this data will be VA specific and will not affect the global leader board stats or the pilot's personal profile but just the pilots' VA pilot profile.


Pilot ranks – Again, another optional feature – these are VA specific and can be enabled (it'll be disabled by default) and will provide the ability to use the flight hours that the pilot has completed for the specific VA (and include any "carry-over hours") to compute their rank – rank names, emblems and flight-time requirements will be fully customisable by any VA staff members with the correct role-based permissions. In addition to that, whilst there will be a generic set of rank icons, airline staff with the correct permissions will be able to upload custom rank images that will be displayed next to the pilot's name within the VA specific pilot roster screen.


Airline hubs – At present FsHub doesn't really have the concept of "hubs", and if you're a member of a VA you are just that – a member of the VA that when you fly the hours and flight data is recorded against the virtual airline and it's global statistics. Whilst every virtual airline will be able to set up their default "hub", VAs will also be able to add additional hubs into their network and assign pilots' to these hubs – this doesn't restrict what the pilot can do from the FsHub side of things, however, this is purely aesthetical and simply displays the pilot's hub on the roster page(s).


Airline radar updates – The global radar has seen many improvements recently in addition to the ones this week too that now highlight aircraft that are also connected to our JoinFS hub network, these same changes will be applied to the VA radar pages too, including the "instant loading" of airborne aircraft like we have on the global radar page – in the past, virtual GPS data packets had to be received before the individual aircraft would appear on the map meaning that it would take several seconds potentially for all active aircraft to load in.


Airline Whazzup.txt files – If you've used tools like LittleNavMap and other moving map pieces of software in the past you may know that you can "feed" them with a whazzup.txt file, which is regularly read by the software and can plot aircraft and other attributes into the software – I will be adding a dynamic whazzup.txt file that will render out all online virtual airline aircraft – think of it like a text-based version of the airline radar feature and so, whilst you will be able to use tools like LittleNavMap and have them render your fellow VA pilots/aircraft in near real-time, this file can also be used with online mapping tools like Google Maps and OpenStreetMaps making it super easy for VA's to display their online aircraft on their own websites.


Airline type description – This change has already made it into FsHub (yesterday) to be honest but I wanted to mention it here as otherwise, you may not notice it for a while – VA CEOs can now set the type of operations that the virtual airline (flying group) carries out, there are a few options to choose from, the default is simply "Virtual Airline" but others include "Flying Club" (aimed at groups flying GA aircraft) as well as "Special Operations" (aimed at Medivac, Milsim, Firefighting etc). At the moment this feature can be configured from your virtual airline settings page and is displayed on the virtual airline profile page. In future, however, this setting could be used for filtering the VA listing page and leader board style stats.
Logbook export tool (FS Logbook Editor) by Radek
One other final quick mention and although I plan to post it up on a new page on the FsHub site soon too (in the next couple of weeks) that will contain a list of third-party developed addons for FsHub and/or tools that utilise the LRM data connector features….
Radek, a user of FsHub and developer of a tool called "FS Logbook Editor" which enables you to have a local flight logbook, has developed an integration that synchronises your FsHub cloud logbook (using our REST API) to a file on your local machine.
I worked with Radek briefly over the last couple of months to help add some other bits to the API to make what he wanted to achieve possible (aircraft tail number and aircraft ICAO type) and did some initial testing on the earlier versions but I can say that this tool looks promising and maybe something that you'd like to use if you wanted a local copy of your FsHub logbook too and/or use some of the other additional features he provides.
More information can be found over at the FS Logbook Editor website.
Ok, that's it, I'm taking a couple of weeks off before starting on the VA updates…
I want to personally thank the guys for helping me test out the numerous LRM builds this last week and flying on our new dedicated live traffic environment… Whilst I was bashing away at the code, these guys just kept testing and feeding back on the almost daily builds 🙂 – Particular thanks to JimG, Alex 002, and Caspy1Uk – you guys were flying and testing every day I think 🙂
That's all from me, for now at least, I'm going to have to take a break from the code for a couple of weeks and hopefully enjoy a bit of flying between other things, jobs and family-related stuff that I've been putting off completing for a while now.
As a reminder – feedback (both negative and positive) is always welcome so please get in contact if you have any.
If you like the continued updates, what we have planned to work on next maybe you might consider making a small donation to help towards the hosting costs – it would be much appreciated but certainly not expected 👍
Lets us know what you think!